Dear Rick and Carla, Lovie has been such a joy in our lives! We can't imagine life without him!! Lovie is a sweet, playful, and an incredibly smart dog. He's almost human!! We had him house trained within 2 weeks!! He is the best dog that we have ever owned and we can't thank you enough!! We would recommend Jubilee Labradoodles to anyone who is looking for a great friend and companion. You guys are amazing! Love, Ron, Liz, Emily, and Lovie Nussbaum
---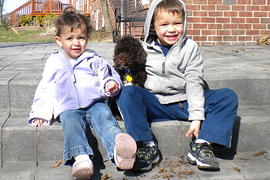 Dear Rick (Mr. Farmer) and Carla, Thank you so much for providing Wesley's new best friend for life! Max has adjusted wonderfully to our home. He has yet to have any accidents in the house and is desperate to please us. He takes naps in his crate and sleeps there peacefully at night as well. It's hard to remember that he is just a baby because he is doing such a great job! Thank you again for this wonderful addition to our family! Meredith, Jamey, Wesley, Emily, and Max
---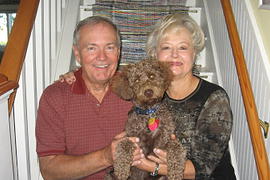 Hi, We are enjoying Hershey. She is a well seasoned traveler. She has ridden the Lake Express Ferry twice. Tomorrow we will fly Midwest to Phoenix from Milwaukee. She looks quite different after her first grooming. She turned out to me a milky chocolate color. We love her. She's beautiful and very smart and playful. She is great with the grand children and loves our grand dog!!!! Now we will help her discover the joys of the desert and keep her away from the cactus. Here are some pictures. sincerely, Bonnie and Cal Bruins
---
Dear Rick Carla, Greetings and thank you for the email. Zoey is doing great adjusting to her new home. The car ride home from Jubilee went PERFECT! Zoey stayed in Shaylyns' lap the whole time and was quite relaxed… Zoey sure loves her new place and things.. She is very comfortable with the crate and is completely housebroken. I am really happy to have adopted an older puppy. Currently, we are concentrating on basic commands. She is an extremely fast learner and it is fun to see how quickly she gets the command. We also take long park walks each day (weather permitting) and she walks on the leash like she is ready for the show circuit. Everybody comments on how she has a little prance and of course how soft her fur is! I have been socializing her to just about everything… in fact we went to visit a friend in a Rehabilitation facility and Zoey was a hit… I see Canine Good Behavior Class in her future! Zoey is good with other dogs, cats , children, and anybody else willing to pet her. BUT, she definitely is MY GIRL! Thanks so much for raising a great puppy. Glenn Gall
---
We absolutely LOVE Brodie!! He is wonderful with our girls, Cameron-6 and Morgan-4! They love to play with him and he loves their toys! He adapted great to potty training with our schedule. We've had him a month already and he is 9 months old! No accidents yet! Thanks so much! Love, Jan, Ron, Cameron and Morgan Cook
---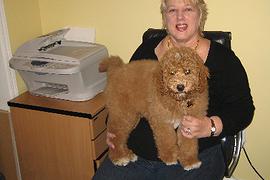 Hi Rick and Carla, Just wanted to let you know how Rusty is doing. Today he got his first grooming and he looks really big with his fur all brushed and fluffed! He is growing taller and now weighs over 14 pounds. We are crazy about him, he is so sweet and loving and makes us laugh every day! He loves to play and will start a puppy socializing group next week. Now that we have a dog, we have met all our neighbors while out walking with Rusty (and walking has been good for our health too!) We think he is really smart and have been making progress training him. Thank you so much for all your help and information. P.S. I'm trying to convince my husband that Rusty would like a little brother or sister from Jubilee Labradoodles! Best regards, Jennifer Livingston
---
This is Chip with his new parents Chad & Holly from Vermilion, OH. Let me start off by saying that we were really glad to meet you both. The experience was better than I ever could have expected. Thank you for taking the time to take us around your property and show us your home. It made the experience a lot more comfortable being able to get to know you a little and knowing how chip has been raised these past few months. Chip has done awesome. He's our little bud. He was great in the car ride home. We have had no problems what so ever. He's an absolute pleasure to have around. He hasn't had a single accident either! We are so proud of him. Thank you again for everything!
---
This is "Sammie" with her new parents Jayme and Toni, they live in East Moline, IL. "Sammie is doing great. She is already potty trained and has been wonderful with the kids. A great addition to our family." Thanks, Jayme
---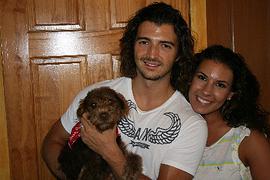 This is Lorenzo with his new family Davide & Antoniette. They live in Windsor, Ontario. Hi guys – things are going great! We did decide to change Skip's name – we thought we'd introduce him to our Italian culture and have chosen Lorenzo! He just wants to always be around us! He responds well to treats, bones and toys – of course – he is already super spoiled! We have been taking him for walks in the morning and evening and have had a few drives – he is responding well. He loves giving kisses and is such a good and happy puppy!
---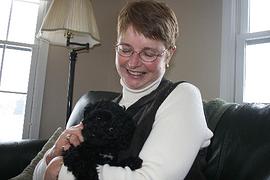 This is "Boo" and her new mom Sue and they live in Adrian, MI. Rick and Carla, Boo is doing real good. She is so good with our grandchildren and they just love her. Boo is always full of fun and such a joy to have in our family. Thank you so much, Sue.
---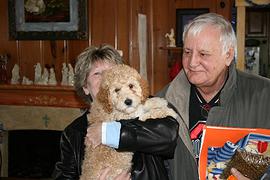 This is "Abby" who lives in Ohio with her new parents Fred and Diana. Rick and Carla, Abby is doing real good and getting big. Thank you for everything. Diana and Fred.
---
This is Sydney, with her new parents Bob and Lisa. They live in Livonia, MI. Carla and Rick—Sydney is terrific. Saturday she was a little shy and would not investigate anything. Sunday was a different story. Very inquisitive and checking out her world and enjoying life. Wonderful temperment–got used to crate in 2 nights. We will keep in touch and update you periodically on her progress.
---
This is Truman, he will be 1 yr. old in the fall of '08. He lives with Sheila in Davenport FL. for the winter & the rest of the year in Moorestown, NJ. Rick and Carla, Truman has finished his first basic puppy class. He came in first place. I can not tell you how pleased I am with him. He is always ready to please me. He sticks to me like glue. His big brother, Winston the blood hound are the best of friends. I now have him enrolled in the next class that begins in Sept. Truman is a super smart dog, and I love him dearly. Thanks for every thing. I will try and send a graduation picture. Sincerely, Sheila
---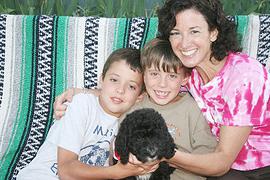 Carly lives with her new family the Buhl's in Grosse Pointe, MI. Carly is thriving at her new home. She just loves the boys as they do her. Puppy class has not started yet but will soon. We are looking forward to it as she is so smart. Rick and Carla were wonderful. They really took the time to get to know our family when we went to visit the pups. When we picked up Carly to come home they spent quite a bit of time making sure that we understood how to care for our dog and her schedule. They have stayed in contact with us to answer any questions that we have had since her arrival. We would recommend them to anyone and would invite anyone considering a purchase from Jubilee to call us. Thanks Rick and Carla!!
---
This is Rafer and Marla with their new boy, they live in Chicago, IL. Harry is doing great. He is a wonderful puppy and we are very happy to have him as a part of our family. Even our cat doesn't hate him as much as we thought she might.
---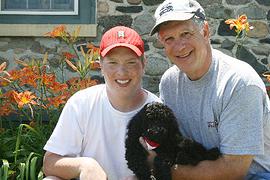 Hi Rick and Carla–We wanted you to know how well Rocco is doing in his new home. He is a fun-loving, happy little guy. Eating and sleeping and playing. He adores Blair but Bob and I are also in his inner circle! He is just adorable and has such a wonderful temperament. We hope to start puppy kindergarten in the next 1-2 weeks. We will keep in touch. Thanks so much! We can tell he got off to a terrific start with all of you. Jan,Bob and Blair Hoenk Niles, Mi
---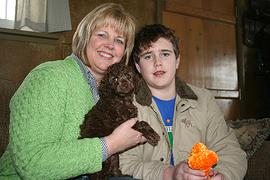 This is "Lexie". She lives in Northville, MI with her new family the Patterson's. Lexie is growing and training very well. She has been ringing a bell and letting us know when she needs to go outside for almost a month now. At puppy training she was a big hit with the trainer. He could tell she was a smart dog.The crate has worked very well and she even goes there on her own at times for a rest. We take her everywhere we can with us and she is socializing very well with people and other dogs.
---
This is "Hershey" He lives in Clarkston, MI with his family the Neidecks. Hershey is doing great. He's a quick learner and smart. We're so happy with him. He's essentially potty trained and rings a bell to go out. He knows how to sit, stay, come, and lay down. Still working on the roll over, heel, and speak.
---
This is Brody with his mom Judy, thy live in Parkersburg, WV. Hi Carla and Rick I cannot thank you enough for Brody!!!!!! Everyone loves him, not just me!!! He is a very smart dog! I have owned a lot of different breeds, but Brody is better than any dog I have ever owned over the years. I love him, and I hope he is with me for a very longtime. Thank you again. Judy
---
This is Wrigley with his mom Carol, they live in Antioch, IL. my daughter and i had a really nice time meeting you both and enjoyed seeing all the dogs, they are all beautiful and very loving. you have a lovely place to raise dogs and i will be telling everyone i know who might be interested in getting a new puppy. once again, great meeting you. thanks for a super sweet little guy that we already LOVE!!! carol, becky, zach, and bob too
---
Hi Rick and Carla, We made it safely home and thru the night. She is a dream!! Not one accident yet and she slept thru the night! She is also great with all the kids and their excited friends. You guys are great!! Thanks, Cece
---
Hello Rick & Carla, Wilby is just a treasure. We are amazed every day at what a wonderful dog he is. The kids call him "Wilby the Wonder Dog." He follows them around in the house and lays at their feet. Yesterday, our son was working on his spelling and Wilby went under the dining room table to lay at his feet, then our little one, Will, crawled under the table to lay with Wilby! The kids have endless sessions of fetch and tag with him in the back yard and are always thrilled when it's their turn to walk Wilby. He's had lots of visitors from the neighborhood wanting to meet him and comment on what a sweet dog he is. I keep telling friends, "He is the perfect dog!" Thank you so much! he is such a wonderful addition to our family. Thank you so much for your help and support and thank you, truly, for sharing this beautiful dog with us. Be assured he is well loved! The Ebbert Family, Will's Guardian Home family.
---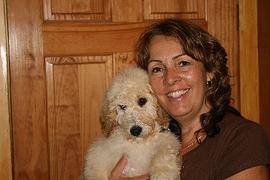 This is Ozzy with his mom Jo, they live in Orland, CA. Rick and Carla, We can't thank you enough for our bundle of joy. Ozzy did so good on all three airplane rides home. I had absolutely no problems with him. Everywhere we went people were stopping me and asking to pet him, some even wanted to steal a hug. You have done a wonderful job with him. He is so smart and such a tender hearted guy, we just love him. Thank You, Thank You, Thank You, so very much. Hugs…..Jo and Ron
---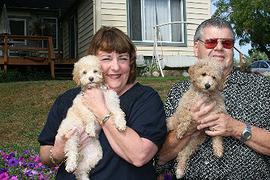 This is Jubilee Blossom on the left, with her new parents Sheri & Jim from Crown Point, IN. Looking for a labradoodle??? There are breeders, then there is Jubilee. Rick & Carla go far beyond breeding & selling a puppy. It's their way of life. At Jubilee, from seeing the litter, picking your puppy, & nurturing your new baby, is a truly amazing & rewarding experience. Their knowledge & care of your puppy from start till finish has their program miles ahead of any other breeders. The quality of their animals are second to none. Dreams come true!!! Sheri, Jim and Jubilee Blossom
---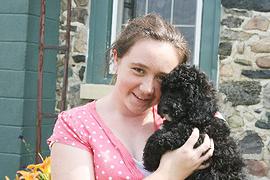 This is Courtney and her new little boy, they live in Ada, MI. Chauncey is not a dog he is a member of our family. He goes everywhere with us. I never imagined we would enjoy him so much. He is Courtney's (our 12 year old) pal, but has also bonded to everyone in the family in his own special way. What a nice addition to our family.