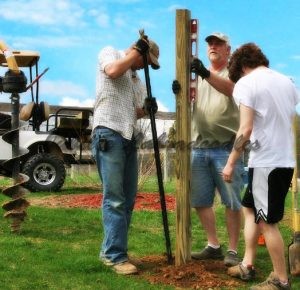 Jubilee is in the heart of the beautiful Irish Hills, Onsted Michigan. We own over 12 acres of rolling hills to play & romp, half of which is wooded nature trails & the other half, a groomed park type setting for our family, friends, horses, and all the doodles to enjoy!!! We really treasure our time with our children and grandchildren here at Jubilee. We have always been an animal loving family, over the years we've had several different breeds of dogs and they've always been inside as close family companions. All our dogs, including breeders and their puppies, will be living in our home or with our adult children, who also have a great love and interest in Jubilee Labradoodles.
After the hard loss of our old friend "Jake", a yellow lab, we bought our first labradoodle, "Buddy", as a young pup. Instantly he captured our hearts and our desire to learn about this wonderful breed of dog was set on fire, and the research started. Within a few weeks we purchased our first female puppy, "Bella". The first two puppies are both first generation labradoodles.
As the research continued, our curiosity in the Australian Multi-generation Labradoodle grew. After talking to several breeders of multi-generation labradoodles, our interest in the difference of the refined breeding continued to escalate, and the search for excellent breeding stock began. We were blessed to meet the owners of aAprina Labradoodles. Esateys and Rafael have supplied us with some wonderful foundation stock, all directly imported from Australia or bred directly from out of Tegan Park and Rutland Manor bloodlines. The refinement of the breed of the Australian Labradoodle is so evident and important for this dog to become a true breed of its own. The exceptional temperament, bone structure and coat of the dogs, become more unique and unlike any other breed, so it can truly be recognized as a breed of its own. If you compare early generation labradoodles, to multi-generation labradoodles, there are certainly great differences that are evident.
Our goal and mission as labradoodle breeders, is to continue the excellence of breeding standards set by the Australian origin of this breed. To be a blessing to others, through a loving friendship with the pure multigeneration labradoodle, is our hearts desire.