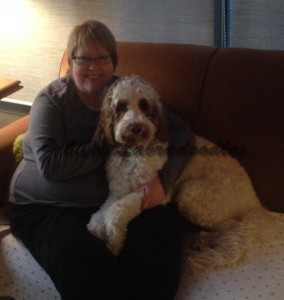 Zoe loves all and is loved by all!!
---
What a Great addition to our family ! Zoey is much more than we expected. We are training Zoey to be a Service dog when she's 1 year old. She's so smart and so perceptive. Trainers ask "what problems are we're having we her"? That's a joke—absolutely none. People can't believe how cute she is and they are surprised that she's a Labradoodle because of her Parti color. This Australian Labradoodle is so much distinctive than other Labradoodle than I see. She is so very special to all people and other dogs. We are happy to have her !
---
Cooper
Hello Carla & Rick,
Just a quick note to let you know that Cooper is doing very well and we couldn't be happier with his progress! What a smart, handsome guy!
He's learned to ring the bell on the back door when he needs to go out, and he seems to enjoy chasing the robins out of the back yard.
Just took this picture today (he's 12 weeks already!) while we were playing out in the yard.
Take care & thanks again,
Scott FrischJubilee Alumni
---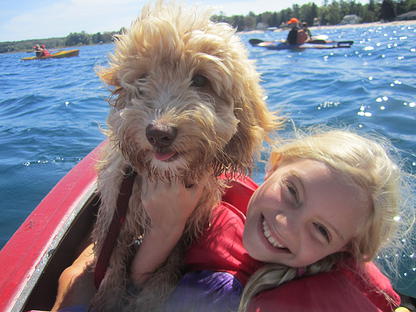 Cuzco
Hi guys!
We wanted to send a photo of our sweet puppy that we got from you at the end of June! He is so sweet, and we all adore him. We named him Cuzco. It is after a city in Peru that Jason and I spent time at before we were married.
This photo is of our 9 year old and Cuzco trying to break a world record for the most kayaks in one spot. Cuzco was awesome kayaking! He did jump in the water once, but stayed in the kayak the rest of the time. We took him walking around afterward and it was ridiculous how many people stopped us to talk with us about our dog! The kids love all the attention we get when we are out and about with him! So many people also asked where we got him, and we were sure to tell them about you guys.
He is now complete on all his puppy shots, and loves his Life's Abundance dog food. He loves riding in cars and has been on quite a few camping trips this summer! We love how he just fits right into our lifestyle. Now that we are back to work and the kids at school, we have gotten him a doggie door for our sliding glass door that leads into the fenced in back yard. This makes us feel much better about being away from him all day. Jason works at an adventure camp and has aspirations to have Cuzco go through therapy dog training after his puppy classes in hopes that he can begin to take Cuzco to the camp with him all day. We would all love that.
Thank you for an awesome dog who has already added so much to our lives!!
Cammie and Jason Osstifin
---
Boomer
Hello labradoodle family!!!
I just wanted to send over some pictures of my Boomer (Zoey's last litter). I get so many compliments on him. He is about 25 lbs and has super long legs! I always check your website to see what you guys have going on, I think I may be getting an itch for another pup!! Take care!
-Stephanie
Jubilee Alumni
---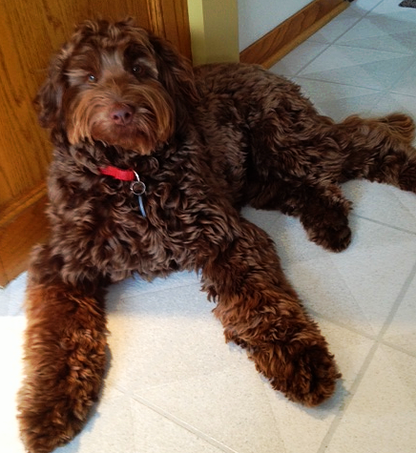 Bruno Walker
Dear Carla and Rick
We can't believe he is a year old already! He is an amazing dog! So smart and well behaved! Loves the snow , he goes with me when I snow shoe, and stays right by me! He has even won the heart of my husband , who wasn't thrilled with having another dog! By far my most favorite of all the dogs I have owned!
Thank you again
He is very loved!
David and Jan Schwallier